Life as a gigging musician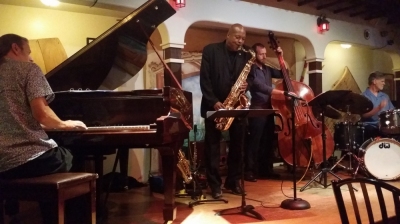 Playing a jazz set at El Meson in Santa Fe with Horace Young, Colin Deuble, and Cal Haines.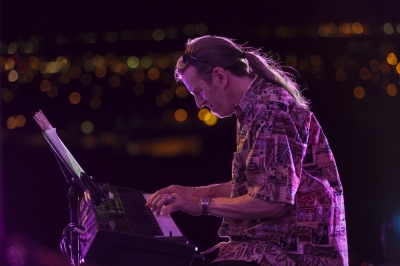 Playing on a windy summer night at a concert in Alamagordo, way up on the hill overlooking the town from the Science Museum. That night I was on with flugelhornist Ron Helman, drummer Mark Clark and bassist Andy Zydrozny. As I recall we all lost our charts at one point to a great gust of wind, after which the concert got very interesting. Better I think...more creative for certain!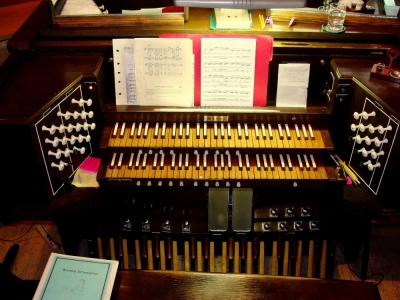 This is where I sit on Sunday mornings at Monte Vista Church in Nob Hill.
Best seat in the house. They haven't installed the seatbelts yet. 18 ranks of pipes and 20 ranks of digital sounds make this the most unique hybrid organ in Albuquerque. We will, we will, rock you!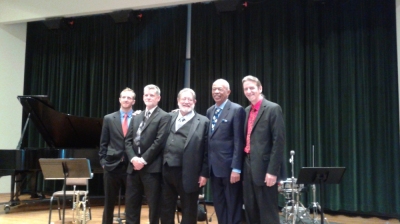 Sometime I get to do really cool gigs with famous cats. Left to right there's bassist Colin Deuble, drummer Cal Haines, trumpet legend Bobby Shew, Tenor legend Charlie Owens, and yours truly. This was at a Miles/Coltrane tribute show in Joplin MO in Spring of 2015. You fans of "Kind of Blue" (best jazz album ever recorded) would have loved it!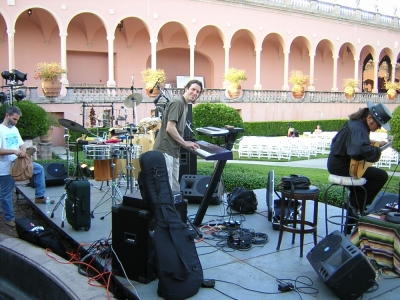 Now we're time-traveling. This is most likely sometime in Summer 2006. Setting up before a show with guitarist Esteban at the Ringling Museum in Sarasota, Florida. I was with Esteban for 5 years. Maybe you saw us on HSN, or on infomercials, or...bla bla...bla bla! Enough of this, now go ahead and contact me for your piano tuning!
Contents ©Copyright 2020 Jim Ahrend.  
(who'd want to copy this anyhow?  Feel free to print!)